You probably know that you could start a blog and start making money from it after some months or a year. But what if I told you that you don't have to wait that long to make a HUGE profit from your blog?
Today, I'll be sharing a new way to make money blogging fast.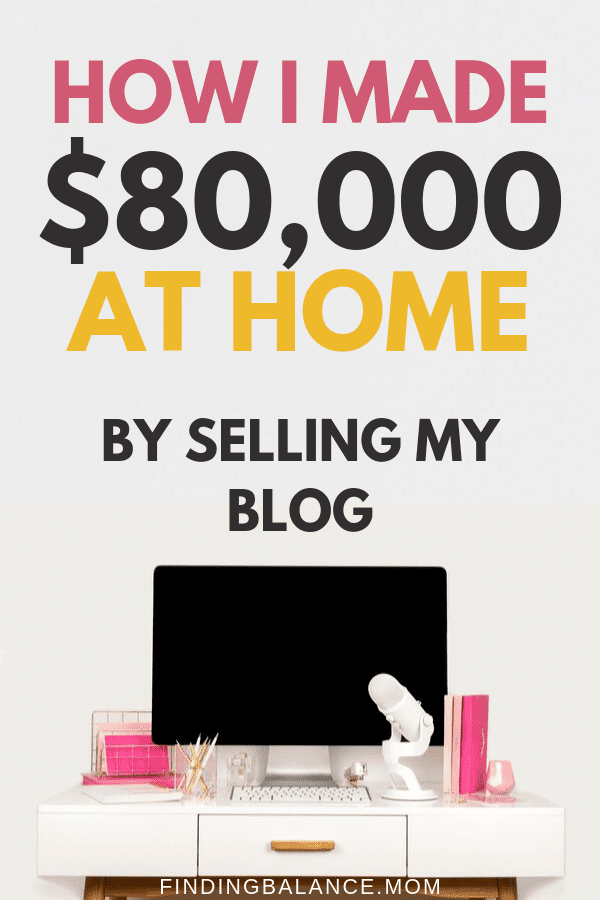 This method is called blog flipping and it's exactly what it sounds like.
*As an Amazon Associate I earn from qualifying purchases. This post may contain affiliate links from Amazon or other publishers I trust (at no extra cost to you). See disclosure for details.
I have Jenn from Profitable and Pretty who is a master blog flipper. (Know the blog "Drink Coffee and Prosper"? Yes, that was Jenn!) Seriously, she's flipped websites for up to $80,000, easily makes 6 figures and has her story featured in sites like Making Sense of Cents, and Real Ways to Earn.

Jenn's story while impressive isn't really out of reach. Like you, Jenn is an ordinary mom. She's a military vet spouse and work from home mama to an energetic, special needs 7-year old. She calls herself a Starbucks addict and a Netflix binge-watching cat mama who loves travel, films, and baking. She's taught over 700 women just like you to make money doing this too (stay tuned for the generous coupon code you can use to sign up for her course if you want it).
In this interview, she'll be sharing lots of useful tips and advice on how to get started with blog flipping for money. Let's go!
Hi Jenn, Can you give us a brief look into your background and how you got started with blog flipping? What motivated you to become a blog flipper?
I have a background in finance and my start came from my venture into eCommerce. My first website flip was an eCommerce store, that earned me over $80,000 from. From there, I started creating blogs to flip and I've just kept on going. I've done many successful flips.
Blog flipping is very rewarding.
I love that I can use my creativity to carve out an awesome little space on the internet. It's great to build something from nothing, grow and add value to it, then sell for a profit.
And how has that paid off for you? Very well?
It's been a great experience and a lucrative venture, for sure. I've earned six figures flipping websites.
It's really awesome to do something you love AND making a nice living from it, is the icing on top!
That's super interesting, can you tell us how blog flipping works exactly?
It starts like this:
First, you create your website. You can do this by building a site from scratch (my preferred method) or buying an established site.
Then, you grow that website. You can contribute to growth in a number of ways including growing the subscriber base, increasing web traffic, and more.
Lastly, when the time is right, you flip!
Blogging is awesome because you get to educate the public about a topic, build a thriving, passionate audience, build a reputation, connect with others, make friends, afford yourself other cool networking and income opportunities, make money, and more. There are a ton of benefits!
You put all that together and package it for sale, in a blog flip!
What's neat is, apart from making money from the actual website flip, one of the things you can do is monetize the website, which allows you to make money while you're still growing the blog. So you can make money monthly from the site and then get your big payday when it's time to flip!
If you had to say, is blog flipping hard? Especially if you have no experience. Also, are there any cons?
No, I wouldn't say that blog flipping is hard. It's an easy industry to break into with a low barrier to entry. What makes it great for beginners is that you don't need a technical background or experience with websites, in order to succeed.
When I first started, I felt my way through the process to figure things out.
I'm not tech-savvy. I don't know how to code. I have pretty basic computer skills and I'm a six-figure flipper.
What's required to get started:
Time commitment-around 1 to 3 hours/week minimum
Writing ability-you don't have to be a professional writer but basic grammar/spelling is helpful (though you can run your content through spellcheck or use tools like Grammarly to correct any errors).
Basic computer skills
Internet access-you'll need a device with internet (a computer preferably) to create/maintain/flip blogs
The cons of website flipping:
When it's time to flip, there is no guarantee that your site will sell or when it will sell.
It takes more than just putting up a website. It has to be a high quality website with value.
With that said, I've had a 100% success rate with selling every one of my websites. I use a strategy for selling that I've crafted over the years, that helps me sell every site quickly and effortlessly.
So as a stay at home mom, what would you say you love most about flipping blogs?
I love the freedom and flexibility of running a blog flipping business, as a stay at home mom.
I wanted a business that would work around my personal schedule. When I used to work in the corporate world, I had to ask permission for time off for doctor's appointments, schedule important events around work, I was micromanaged, overworked, and I'll stop my rant there, haha.
If you want a business where you can create your dream schedule, put your family first and work second, the freedom and independence to pick the projects you want to work on, then blog flipping is for you!
Other perks:
Unlimited income potential
No commute (you work from home)
Dream schedule (take 2-hour lunches if you want, take mornings off, no barriers to scheduling family vacations, work what you want and when you want)
One question lots of moms ask is how much you can sell a blog for, especially as a beginner. Can you give us an estimate to go by?
This is a common question I get a lot. How much can a blog sell for, as a beginner? It isn't based on your experience level (beginner, intermediate, etc.) necessarily, it's based on the quality of the blog.
I have seen beginners make $300 on their first flip and I've seen beginners make $50,000 on their first flip, and every number in between.
The price you get for your blog is based on many factors like website age, amount of content (like the # of articles), income, traffic, subscribers, social media presence, and more factors.
A basic website with no traffic, social presence, or subscribers with minimal content (10,000+ words) could fetch $300 to $2,000.
It's a big range, you see, and what makes the difference between the lower end and the upper end of the income scale is the content. Basic, shorter (500 words) articles versus SEO-optimized, long form (2,500 words) and niche-specific articles.
If you assume the lower end, that means $300 for a blog sale, which may be $250 after expenses. If you do 4 flips a month, you'll earn $1,000/month!
Just an example of the kind of money you can potentially earn with blog flipping.
Side Note: Jenn uses a neat hack to publish lots of great content on her blogs before flipping. That way, the value of her blog is higher than it would be without enough content. She gives a hint to what it is on her course sales page so even if you can't afford Jenn's course, still check out the sales page.
So how can one become a blog flipping ninja like you with no prior experience?
To become a blog flipping ninja (I love that phrase) with no prior experience, I recommend starting with the proper training.
With expert training and support, you can learn the right way to flip blogs from start to finish, so you can build a thriving, lucrative blog flipping business.
Through my course, The Art of the Micro Flip, I show my students how to create successful website flipping businesses for themselves, earning up to (and over) $2,500/month.
I've had 700+ students enroll in the course!
You will learn the entire process, including:
How to create a blog
Content strategy
Monetization/income strategy
Traffic strategy
Blog growth tactics
How to sell your blog like a pro
How to scale the business to make five figures (or more) per month
I show you exactly how to start this business with text-based lessons and video tutorials. The course even includes a student community!
We have new students making $300 (and more) with their first flip!
If you're interested in signing up, I'm offering FindingBalance.Mom readers 20% off, with code 20OFF.
Side Note: If you wanted to invest in a blogging course, it's smarter to buy a blog flipping course instead. A blog flipping course will teach you everything contained in a make money blogging course AND how to flip blogs too. Even if you currently don't want to flip blogs, it's a good skill to have for the future. You can sign up for Jenn's course here, remember to use the discount code if you do.
Tell us more about your course/membership. What do we learn when we sign up?
The course teaches you how to build, grow, and flip websites.
It's a 12 module, 25+ lesson course taking you through every part of the process:
Laying the foundation
Creating a stunning website and laying out your content strategy
Building a social fanbase that aligns with your website
SEO techniques
Traffic strategy
How to make money with the site
The flip
A behind-the-scenes look at a live website flip (over 30 days)
How to sell your site
Plus, Bonuses!
Any more tips on starting a blog flipping business?
You can sign up here to get started.
Thanks so much for your time Jenn! I've learned a lot from you myself.
Jenn didn't mention it but with her course, she actually jumps in the trenches with you and builds a real site alongside you. You get to see exactly what she's doing with a blog that's the same age as yours. Here's the link to signup for the course again.
And don't forget to pin this post!